If You Think It's Expensive To Hire A Professional, Wait Until You Hire An Amateur
A buyer's agent is a real estate professional who guides a buyer through the process of purchasing a property.
Is it a Must to Engage an Agent?
No you don't need a property agent to buy, sell or even rent in Singapore but you probably want a professional by your side when it comes to property transactions due to the large sum of money being involved and legal implications should things do not turn out as planned.
Do I Need to Pay Buyer's Agent?
For HDB transactions, the purchaser would normally pay 1% of the purchase price to the buyer's agent.
However for private transactions (both resale and developer sale), the buyer's agent typically collect his/her fee from the seller's agent or developer.
What is the Role of a Typical Buyer's Agent?
Shortlist properties
Arrange viewings
Convey offer
Do the necessary paperwork
Why Buyer Prefers to DIY?
Even when private property buyers do not need to pay to engage a buyer's agent, some would still prefer to do the search themselves for reasons such as:
The buyer can get direct information from seller's agent instead of going through another party.
By going direct to the seller's agent, they can get a better price.

They do not see the value in engaging an agent since all they do is just make phone calls and arrange for appointments.
Real Value of a Buyer's Agent
As simple as it may seems, the reason why you would want a buyer's agent on your side is to leverage on his/her experience.
These tasks may seem relatively easy and frankly, you don't exactly need a real estate license to do most of them. However, when you factor in the experience of a competent salesperson, it can make a world of difference.
Very often I will meet buyers who have already decided on what they want to buy e.g. a freehold 3-bedroom but they may not be fully aware what is a fair premium to pay for freehold over leasehold and which location offers better rentability versus upside potential.
As your buyer's agent, I will spend some time to understand your mid to long-term plans and perform a financial stress test before going into property selection.
Rather than relying solely on property portals and/or newspaper ads, we also have access to off-market listings e.g. sellers who do not wish their property to be advertised publicly (I know this may sound illogical but there are indeed such sellers out there), auction listings and also in-house/3rd party app to effectively shortlist suitable listings according to your preference.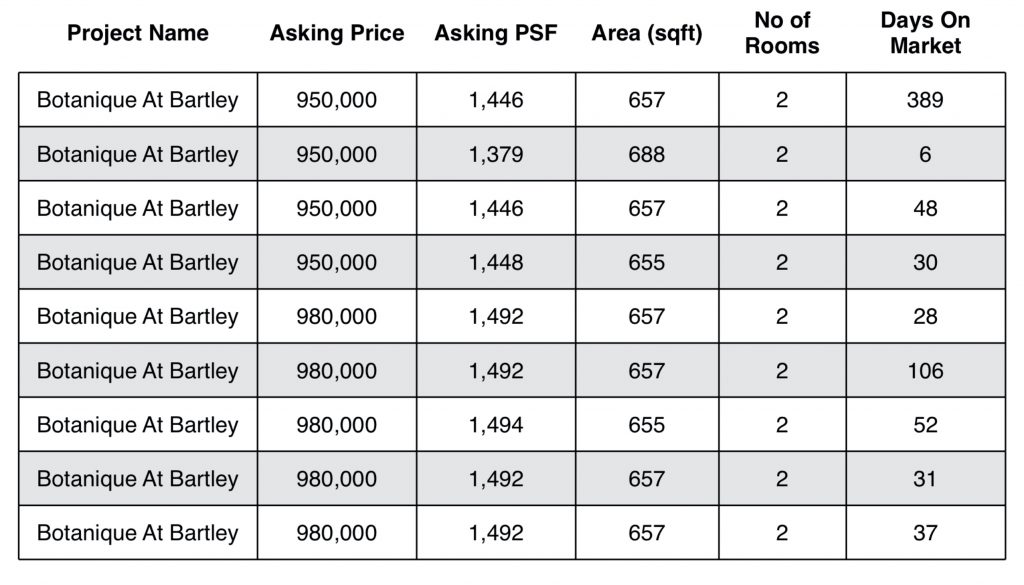 This is an example of a scrubbed list of listings sorted by price and the system would even indicate the age of the ads which gives us an idea if the listings is fresh, stale or even fake.
Having seen so many developments over the years, we would also know the pros and cons of each location/project and eliminate the overpriced and unsuitable ones right away, saving you time from viewing these less than desirable listings.
Many buyers may not be aware that there are actually ads out there where the property doesn't exist such as a fully sold project or the property might have been sold but the ads are left there to generate leads i.e. your call/message.
The effort to filter out all the "fake ads" and to arrange the appts in a back-to-back manner to optimise your schedule can be time-consuming. This is where you could leave it in the hands of your real estate PA (buyer's agent) by letting them know your availability and simply show up at the arranged date/time.
Another advantage of engaging an experienced agent is that he/she might also know many other fellow agents. This is where they could gather additional intelligence such as last rejected offer, (real) reason for the sale and even certain undesirable attributes which is the reason why the property takes a long time to sell.
Bonus: For purchasers that do not drive, it's fairly common that agents who drive will offer a ride so you can move efficiently from point-to-point and visit more properties within the same duration.
This is the part where experience really counts.
But prior to conveying an offer, we will need to determine what price to offer.
One way to do this is by gathering desktop valuations from various banks and reference the comparable recent transactions.
Noticed I highlighted the word, comparable. The floor level, the facing, the layout and many other aspects contribute to the intrinsic value of a property. However, exactly how much more to pay per floor level, premium to pay for choice facing and discounted psf to apply for unusable area is beyond most DIY buyers.
An overly optimistic offer could exceed the final valuation by the bank and therefore, resulting the need to fork out additional COV (Cash Over Valuation) or even forfeiting the deposit should buyer decides to walk away from the deal.
Negotiation is both an art and a science.
The ability to tread carefully to figure out the bottom price without antagonising the other party, the gut instinct to move quickly before the property is sold or to deliberately slow down the process is something that takes great experience and situational awareness.
By having access to the purchase history of a property will also add another perspective to what the seller's bottom price could be. (Refer to below image on a 2-bedroom apartment in The Sail that was transacted 6 times between 2004 to 2017).
Other than price, the accompanied terms such as precise timing of option period and final completion date could save buyers from moving twice or even having to incur rent for interim housing.
Doing the Necessary Paperwork
Some might wonder how complex could the paperwork be?
While I would not describe as complex, there are multiple variations of how the sale process and timeline would flow depending if it's HDB/EC/Private.
It would be useful to have an experienced agent on your side to advise on areas such as:
Financing – Which bank to choose? Fixed or variable rate? Lock-in or no lock-in and any clauses to look out for in the Letter of Offer.
Conveyancing – Recommend a reputable law firm that offers competitive rate and sits on the approved panel of the chosen bank.
Manner of Holding – Joint tenancy or tenancy-in-common? It is getting popular for many joint owners to opt for 99%/1% ownership but what are the pros and cons of this arrangement and who should be taking the 1% share?
Early Handover – What are the legal obligations when taking over a property prior legal completion?
Final Completion – Taking over of property based on vacant possession versus sale with tenancy? When to open the utility account and what to do with letters going to the previous occupants?
By now I hope you could see why having an experienced and competent real estate agent (like me) on your side is a good idea and it's not just about browsing on property portals and making phone calls.
Or you could be an experienced property buyer and you're super confident that you could do everything by yourself. Continue reading here on What Could Go Wrong?