Anything That Can Go Wrong, Will Go Wrong.
Real Estate Transactions Gone Wrong?
Thinking of DIY because you think you do not see the value in engaging a buyer's agent?
We look at some common pitfalls that could be avoided with professional guidance.
If you are an experienced buyer or prefer to DIY, hope you could pick up some tips from my sharing below.
(Real) Reason for Selling
This is one of the most common question I get from buyer but it's also one of the hardest to find out because most of the time, we will get answers like "sellers are upgrading, sellers are moving nearer to parents/kids' schools."
Seldom we will hear reasons like "sellers are getting a divorce, sellers are in financial difficulty, someone passed away in the property." etc.
While having an agent doesn't necessarily means we will always be able to uncover the real reasons for selling, there are tell-tale signs that we might pick up based on our experience.
Yes this is Singapore but low crime doesn't mean no crime.
Though extremely rare, it is possible for fraudulent act to take place such as a seller who is a bankrupt (or going to be one) tries to dispose a property and while the OTP can be granted, the legal completion may not possible or the property could be subjected to clawback later on.
When in doubt, it's always good to do your due diligence by doing an Insolvency Search. A search cost just S$6 and could save you a lot of headache or heartache.
Poor Decision due to Lack of Information
This is probably the main gripe of uninformed buyers and I have broadly categorised them into a few sub-categories:
Little or No Gain/Lost Money
It's always a painful conversation when I meet sellers who are shocked to realise that their property did not appreciate at all after many years of ownership. It's worse when it's a negative sale where the sale proceed is not even enough to cover the bank loan and/or CPF withdrawn.
It's easy to simply blame it on the present market condition but the fact is that the mistake was actually made many years ago.
Both Reflections at Keppel Bay and One-North Residences were launched in the first half of 2007. As of Dec 2020, Reflections has been a profitable decision for 107 owners but unprofitable for 154 owners i.e. 41% profitability ratio.
On the contrary, One-North has 328 profitable transactions vs 27 non-profitable ones – more than double the profitability ratio of Reflections at 92%.
There are obvious reasons behind this stark contrast and if you're keen, I can share in greater details with you.
The most common misinformation I come across is that some buyers do not actually know that the 99 years leasehold property they bought is not actually 99 years.
I know some of you might be thinking. How could this be? Let's take a look at one of the examples.
Coco Palms (District 18 / Pasir Ris / TOP 2018) was one of the best selling project when it was launched in 2014. Being one of the closest land plot to Pasir Ris MRT station and attractively priced at $1,0xx psf, the developer sold a total of 529 units within Q2/2014 itself.
However, what some of the owners I have spoken were under the impression that the 99 years countdown started from 2014 only to realise that the clock started much earlier.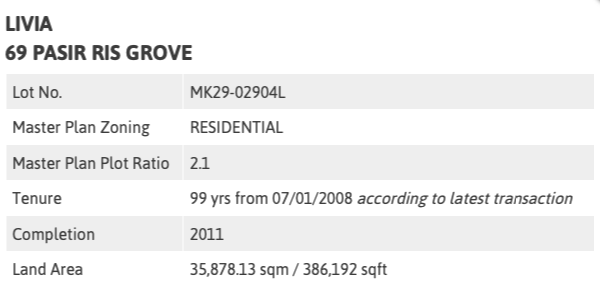 If you compare the land tenure of Coco Palms to the adjacent plot of Livia, you will notice that both projects share the same land tenure of 99 years from 07/01/2008 despite being constructed 7 years apart.
This doesn't mean that Coco Palms is an inferior project but I am just sharing my observation that a DIY buyer who just randomly walk into a showflat may not necessarily be fully aware of what they are really buying into.
In fact, the same could go to future resale buyers of the project as they may only identify them as 7 years apart based on TOP but unaware that they are in fact of the same age based on land tenure.
Have you seen ads about how a couple with a household income of S$6,000 could own multiple properties?
In a perfect world where everything keeps going up, all is well as long both their income and their assets continue to increase.
However, in the real world that we live in, our income and real estate prices do not go up in a straight line as seen the images below.
I have met many property owners who bought their properties at all-time high just before a market correction. However, as many have strong holding power, they were able to hold out without having to panic sell their property and eventually enjoy profit instead of cutting losses.
Above is an example of a 4-bedroom in City Square Residences that was purchased in end 2012 for $2,230,000, just before our government introduced TDSR (Total Debt Servicing Ratio) in Jun 2013 to cool the property market.
The apartment was eventually sold in 2017 for a $280,000 loss excluding stamp duty, legal and agent's fee.
I cannot confirm the sale was due to lack of holding power but assuming it is, the seller would have breakeven or enjoyed a small gain if only they could hold out longer.
You might agree with me that over-leveraging is unwise but do you know the same goes for under-leveraging?
This is my personal story and perhaps you could learn from my painful lesson.
Prior becoming a real estate agent, I was employed like most people and making a comfortable 5-figure monthly income.
I was surrounded by mostly HDB dwellers telling me how buying a HDB flat is the best thing any Singaporean could do and the next best thing to do is to fully pay off and be debt-free as young as possible.
Do not get me wrong. I have absolutely nothing against public housing and even till today, I missed the space in my last home, a 1,668 sqft Executive Maisonette.
What I regretted was not upgrading to a private condo or even a landed many years ago when the price gap was narrower and when the bank could offer me a longer loan tenure.
This was a 7-figure mistake and one the biggest reason why I formulated a framework to provide on guidance how to determine the suitable housing type (both public flats and private properties) depending on the borrower's income and buyer's age.
To find out the recommended housing for your situation (as everyone is different), click the WhatsApp button at the bottom of the screen to setup a meeting/call with me.